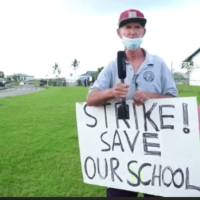 South Pacific Academy is closed today according to a notice sent out to parents last night.
It said the Board of Directors has decided to close the school Wednesday, March 3rd so that the board can meet with the teachers. The goal? To work towards a solution that brings an end to the strike.
The majority of teachers at the school began a strike on Monday and have vowed they will remain on strike until the Chair of the Board of Directors steps down or is removed.
The notice to parents also announced Associate Justice Fiti Sunia as the newest member of the board and thanked him for his commitment to South Pacific Academy.
A meeting between the Board of Directors and parents is still scheduled for Thursday, March 4th at 5:00 p.m.
The school's Junior Varsity and Varsity boys soccer teams will still participate in their scheduled game today.