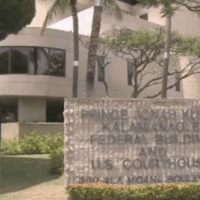 Bluesky Communications, along with senior company executives are named as defendants in a $20 million lawsuit in which the locally-based telecom provider is accused of violating U.S. Federal Communications Commission (FCC) regulations.
In the suit filed last month in the federal court in Honolulu, the plaintiffs Steven Jay Pincus Hueter, Rosalia Tisa Faamuli, Michael S. Kirk and Faamuli Pete Faamuli allege that the defendants violated FCC Rules and Regulations by improperly hanging and attaching its telecommunication cables on trees and land belonging to the plaintiffs in Alega village and on the official private Alega Marine and Wildlife Sanctuary and Reserve.
In addition, the suit also alleges that the cables hang at a height below FCC requirements and in a manner that violates the FCC's requirements for hanging cables.
The plaintiff's also allege that Bluesky's cables are illegally hung on special ocean growing trees specifically planted by plaintiffs to provide shade for the threatened species Green Turtle and endangered species Hawkbill Turtle. Both species are on the federal government's Endangered Species List.
The plaintiffs are asking the court for $20 million in compensation and punitive damages as well as injunctive relief which will prevent the defendants from violating FCC rules and regulations in the territory.
Except for plaintiff Hueter, the others named in the suit have another suit pending against the defendants at the Lands and Title Division of the High Court of American Samoa.
The defendants cite in the federal complaint that the High Court of American Samoa is not a Federal Court and does not have jurisdiction over the federal question of defendants' violations of FCC laws, rules and regulations.
Along with Bluesky, the other defendants are former CEO Raj Deo and former Chief Operations Officer Paul Young.