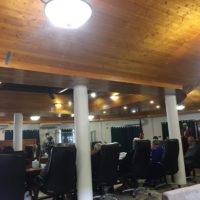 Senator Malaepule Saite Moliga yesterday, sponsored a resolution which requests a stay on the rollback of all personnel actions from 2019 to 2020 for American Samoa Government (ASG) employees.
The rollback on promotions, salary increases and other personnel actions was ordered by Governor Lemanu Peleti Mauga in a memorandum issued last month.
Malaepule's resolution calls for a Senate hearing on the rollbacks with the governor's Chief of Staff, Tuimavave Tauapa'i Laupola, the Director of Human Resources Lynn Pulou Alaimalo and Budget Director Catherine Saelua.
Before the hearing, the witnesses are to submit a list of ASG employees affected by the governor's rollback memo and a list of all new ASG employees or employees who have moved into a new position since the current administration has taken office.
Senator Malaepule also wants the witnesses to give the reason why the Governor's memo does not apply to these employees.
According to the resolution, employees affected by the rollback are concerned the governor's memo will only be applied against those who did not support the current administration in the last election, that the memo is retaliatory in nature.
The Senate is also concerned as the ASG budget for Fiscal  Year  2021 which the Fono approved in January, should already include the salaries and positions that Governor Lemanu has ordered to revert.