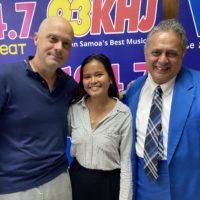 A documentary on the history and resources of Swains Island will be shown today at https://watch.eventive.org/oceanfutures followed by a question and answer session.
The film, titled Swains Island – One of the Last Jewels of the Planet, documents a 2013 expedition which involved the Jacques Cousteau Society, the National Marine Sanctuary of American Samoa and the Jennings family.
The showing is at 10:00 this morning and the question and answer panel will include film producer Hans Van Tilberg a member of the Jacques Cousteau Society and Swains Rep. Su'a Alex Jennings.
Play Audio