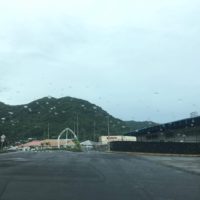 Last night winds finally picked up in the territory. The stormy weather arrived around midnight with the maximum overnight wind speed recorded at 38 miles per hour.
The National Weather Service says Tropical Disturbance 10F is 330 miles southwest of American Samoa and continues to move away from the territory.
The foul weather stems from the South Pacific Convergence Zone near Savaii, Samoa. Sustained winds of up to 40 miles an hour with gusts near 45 mph are expected throughout today.
The National Weather Service expects conditions to improve this evening.
The Emergency Operations Center received reports of two mudslides on the eastern side of Tutuila Monday. One occurred at the Fagasa Pass at 3:45 p.m. which blocked both lanes and the other happened at 5:22 p.m. at Alofau and blocked one lane.
Crews from the Dept. of Public Works and ASPA worked in the torrential rain and wind to clear the debris and restore road access. ASTCA crews were also out working to fix damaged phone lines.
All public schools will remain closed for a second day today and several private schools have also cancelled classes. As of this report, those private schools announcing school closures are:
South Pacific Academy
Samoa Baptist Academy
Iakina Adventist Academy
Peteli Academy
All Catholic schools
The American Samoa Community College has also canceled all classes today.
Photo of Fagatogo as of 9:00 am Tuesday, February 23.