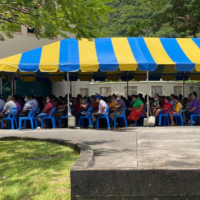 There's no requirement for COVID-19 vaccinations to enter the Territorial Bank of American Samoa (TBAS) to cash a stimulus check according the CEO of TBAS Dave Buehler.
His statement was in response to KHJ News questions after we learned from Dept. of Health officials that this was the reason for the large number of people turning up at the Tafuna Community Health Center for COVID-19 vaccinations.
The average daily turnout has been 1,100. According to DOH officials, many in the crowd said they were told that proof of a COVID-19 shot was required to enter the bank to cash stimulus checks.
Buehler set the record straight that this is not a bank requirement.
The third and final batch of stimulus checks in the second round of Economic Impact Payments awarded under the CARES Act will be released tomorrow (Wednesday).
The total value of checks in tomorrow's batch is $1.6 million, the smallest of the three batches in this round. They are for those who filed their 2019 taxes from July 2nd through December 30th of 2020.
Buehler says this time around it's been a smooth process, as long as people don't mind waiting. "But it could be even better."
"If everyone had a deposit account, stimulus funding could be electronic and then customers could use their TBAS MasterCard ATM/debit cards," he pointed out.
Buehler said mobile banking activity is well received and many TBAS customers are using the online deposit function. He added the bank opened more accounts in the last two stimulus check releases.
The bank has opened both their Centennial Building branch and the Tafuna branch from 7:30 a.m. to 3:00 p.m. to accommodate the large volume of customers. However, the last day for those special opening hours is Friday, February 26th.
TBAS will return to regular hours 9:00 a.m. to 3:00 p.m. next Monday.