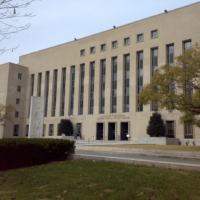 In a complaint pending before the federal court in Washington D.C., local resident Steven Jay Pincus Hueter alleged violation of civil and constitutional rights due to American Samoa's  COVID-19 restrictions. Hueter has a similar lawsuit pending in the High Court of American Samoa.
Hueter's federal complaint alleges violations of his civil and constitution rights based on local COVID-19 restrictions which prohibit him and others from attending church services from 12:00 midnight to 5:00 a.m. each day.
Hueter's lawsuit cites the Decision and Order of the U.S. Supreme Court of November 25, 2020.
The case was brought by the Catholic Dioceses of Brooklyn, New York against that state's governor.  "It is time—past time—to make plain that, while the pandemic poses many grave challenges, there is no world in which the Constitution tolerates color coded executive edicts that re-open liquor stores and bike shops but shutter churches, synagogues, and mosques."
Hueter's complaint quotes part of the Supreme Court decision. "Nor is the problem an isolated one. In recent months, certain other Governors have issued similar edicts."
Defendants named in the complaint are Chief Justice Michael Kruse, the Acting U.S. Secretary of Interior, Gov. Lemanu Peleti Mauga, Lt. Gov. Talauega Eleasalo Ale, Attorney General Fainu'ulelei Alailima-Utu, the Governor's Chief of Staff Tuimavave Tauapa'i Laupola, the ASG COVID-19 Task Force and the American Samoa Government.
Other defendants are former Gov. Lolo Matalasi Moliga and his former chief of staff Fiu Saelua along with his former executive assistant and former Task Force chairman Iulogologo Joseph Pereira.
The federal court last week issued a summons for the defendants, giving them 21-days to response to the complaint after being served with the summons. Summonses were also to be served on the U.S. Attorney General and the U.S. Attorney for the District of Columbia — which is representing the Secretary of Interior, according to court records.
Last Friday, Governor Lemanu issued a new COVID-19 declaration which exempts religious service from the public gathering ban between 12:00 midnight and 5am.
Over the weekend, Hueter sent out an email message to reporters and his friends claiming that the change to the COVID-19 declaration on religious service was the result of his federal case.