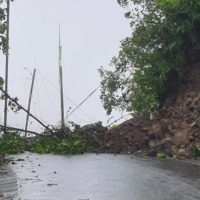 In addition to the South Pacific Convergence Zone that's  been active over the Samoa island group for the last few days,  there's a tropical disturbance nearby which the National Weather Service is keeping a close eye on.
As  of 3 pm conditions were not favorable for it to develop into a hurricane but it still remains an area of interest because of uncertainties with the system says Meteorologist on duty, Dora Le'iato Meredith.
The tropical disturbance was southwest of Savaii Island whipping up winds of 25 knots per hour , or around 40 miles per hour, with higher gusts.
For this evening up to tomorrow morning the National Weather Service is continuing a high wind warning, a high surf wanring. a gale warning and periodic flash flood warnings.
More than three inches of rain were recorded by the Tafuna rain gauge between midnight and 3 pm.
This takes the rainfall count for February, 2021 over the rainfall average for February of 12.66 inches.
The stormy weather conditions are expected to remain throughout tonight and tomorrow., and should start clearing up by Wednesday.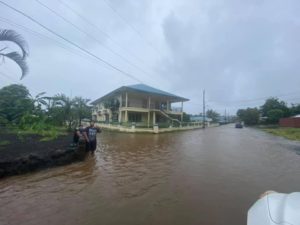 Despite the heavy weather Samoa Airways operated two flights to Samoa this morning  to take local Samoan citizen residents needing US visas to travel for medical treatment on the March 10th flight to Honolulu.
There was also a flight to Manu'a which took a Department of Health team to carry out Covid-19 vaccinations there.
The Emergency Operations Center said there were no weather related incidents reported today.
However motorists driving up the Fagasa Pass shared videos and pics of fallen trees and debris from mudslides blocking the road close to 4 pm.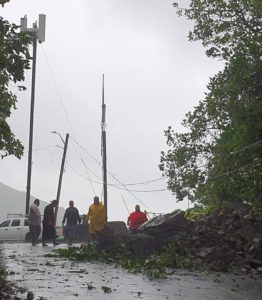 Crews from Public Works and ASPA were at the scene clearing the road while cars in both directions waited.
Fagasa Pass photos by Evelyn Lili'o Satele
Fagaima photo by Pauga Joey Cummings