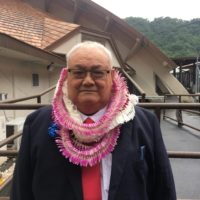 The House of Representatives took the unusual step today of voting for a cabinet member with a public show of hands instead of a secret ballot.
The cabinet member was Acting Commissioner of Public Safety Paramount Chief Lefiti Falelaulii Pese who was confirmed by a unanimous 17-0 vote.
Earlier this morning  Lefiti appeared before the House Public Safety Committee for his confirmation hearing.
Before the nominee entered the chamber, Rep Faimealelei Anthony Allen  proposed a motion to waive Lefiti's appearance but for the committee to approve his nominations without his presence.
The motion was seconded, then was immediately put to a vote and was passed.
Vice Speaker Fetu Fetui  thanked Faimealelei for the honor  afforded the Faatui or titular head of Manu'a.
Rep Manumaua Wayne Wilson pointed out however that it was unprecedented for a nominee to be approved without a confirmation hearing.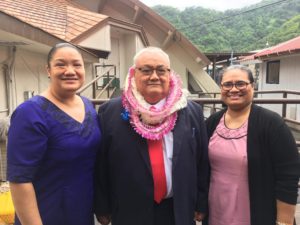 The vice speaker  said in reference to Manumaua's statement that he had anticipated such comments. He then proposed an amendment to Faimealelei's earlier motion which had been approved.  His new motion was to bring the nominee before the committee, and for the House Speaker to be given the opportunity to make the final decision.
House Speaker Savali Talavou Ale said the cabinet nominee should appear before the committee as is the usual practice for confirmations.
The Acting Commissioner of Public Safety was then ushered into the House chamber where  Committee Chairman Rep Avagafono Vaimauga Maiava invited him to address the speaker and representatives.
Lefiti said it was an honor for him to be chosen by Governor Lemanu Peleti Mauga to be the father of the public safety arm of the executive branch.
He expressed his appreciation to the governor for having confidence in him to take up this position.  He declared that in his 52 yars of service in the government , he has never broken a law.
Lefiti told the committee that if there was any member with doubts about his nomination, he would try his best to address their concerns.
House Speaker Savali said in response that while the House had rules for confirmation of  executive branch appointees, he and fellow representatives could sense this was a special occasion and unique appointment…having a matai of Lefiti's status take charge of the territory's public safety.
He added that the House would have an opportunity to question Lefiti about the operations of DPS at a later time.
With that the Acting Commissioner was excused. And he didn't have to answer any question as none were asked during his 15 minute appearance before the House Public Safety Committee.
Lefiti faces a confirmation hearing in the Senate on Thursday.