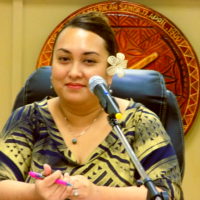 A confident Petti Tagipo Matila laid out her goals to grow the territory's economy, entice new investment, and improve the quality of life for local residents surfing her confirmation hearing as Director of Commerce in the House today.
The 36 year old who has been with DOC for the last 8 years listed 6 goals that she wants to focus on during her tenure, if confirmed.
These are:
Human workforce development with a view towards training employees for Science, Technology, Engineering, Arts and Math related jobs;
Creating a digital economy taking advantage te of what's available now in internet technology,
Promoting entrepreneurship and small business development via the offering of loans for residents for business startups,
Forging public private partnerships not just in the territory but also in the region, leveraging federal and local resources for infrastructure development,
Attracting new investment to create economic development opportunities and
Developing local products and exports.
Matila used the Moana taro chips as an example of a successful local product being exported and marketed on line.
Play Audio
Matila, a graduate of the American Samoa Community College has a Bachelor of Arts in Political Science with a minor in Business Administration from the University of Arizona and a Master of Public Administration and Policy from American University, Washington DC.
The House approved her nomination by a unanimous 17-0 vote.