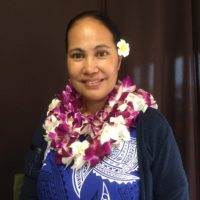 Faleosina Faiai Voigt has successfully completed the confirmation process to serve as Director of the Department of Public Works.
Today senators approved her nomination by a vote of 16-2, following a brief confirmation hearing.
Faiai Voigt had failed confirmation in the House last Thursday but a reconsideration vote the day after, resulted  in a unanimous vote of approval by Representatives.
The Senate also approved today the nomination of Talauega Samasoni Asaeli as Director of Education.  The vote was 17-1.
Talauega is a veteran educator who started as a classroom teacher 1993 and worked his way up to vice principal and then principal.
He was assistant director at ASDOE for the secondary division from April 2013 until he was selected by Governor Lemanu Peleti Mauga to be Director of Educstion.
The graduate of Marist Brothers High School has a BA in History and Geography from Central Queensland University in Australia, a Master of Education in Administration and Supervision from the University of Phoenix and a Doctorate in Education in Teaching and Learning from Argosy University.
The House of Representatives meanwhile confirmed today, Afalava Eliki Afalava as Director of Administrative Services.
Afalava was Deputy Director of the department for most of the last eight years. When then director of Administrative Services  Malaepule Lua Moliga resigned last year, Afalava was picked for the top job.