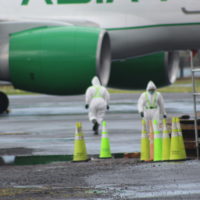 To prepare for the first repatriation flight from Honolulu on February 1st, the Covid-19 Task Force will be holding an island wide exercise Tuesday, January 26 from 2pm-4pm.
The exercise is to test the territory's readiness for the repatriation flight.
It will simulate what can be expected to happen on the day of repatriation.
This means you may see medical staff and first responders in full Personal Protective Equipment (PPE) such as masks, full body white suits, face-shields and so forth.
The Task Force urges the public to stay calm when hearing ambulance and police car sirens in the area between Pago Pago International Airport and Tradewinds Hotel or Tafuna Community Health Center and the LBJ Hospital.
For more information call the Covid 19 hotline 219, 633-5871/5872.