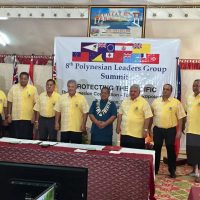 American Samoa gets to host the annual meeting of the Polynesian Leaders Group, this week.  A virtual meeting that is.
Governor Lemanu Peleti will be in the  PLG chair for the virtual meeting this Thursday, January 28th.
American Samoa was to host the PLG in 2018  however it asked Tuvalu to host instead to coincide  with the Pacific Island Forum meeting that year in the Tuvalu capital Funafuti
Tuvalu accepted and ASG promised to pay some of the hosting expenses.
Then Governor Lolo Moliga offered to host the meeting in 2019 however due to the measles epidemic the meeting was postponed to last year.
The coronavirus pandemic resulted in the cancellation of the 2020 meeting of the leaders of Polynesian island countries and territories.
The Department of Interior had awarded a $350,000 grant to ASG to help with the costs of hosting the conference last year.

The Lee Auditorium was fully refurbished as the conference venue,
A press release from the Governor's Office this morning announced that Governor Lemanu will host the first-ever Virtual Polynesian Leaders Group (PLG) summit between island nations of the Blue Pacific region this Thursday, January 28th, 2021.

American Samoa currently holds the PLG Chairperson position.
As Lt Governor Lemanu has attended a few PLG meetings.
"The theme for the upcoming PLG meeting is 'Building Resilience in Times of Uncertainty,' said Lemanu.  "Our Polynesian culture defines our unified goals of building partnerships and paving the way for a prosperous and sustainable future for the region."
He continues, "This theme is directly related to how the Pacific islands are working together during this pandemic to overcome adversity. We need to remain vigilant about other issues affecting our islands, livelihood, economics, culture, and language. I hope that the results of this week's discussion will be formatted and addressed accordingly at the next Pacific Islands Forum Meeting."  
The governor expressed appreciation to PLG Founder Samoa Prime Minister Tuilaepa Sailele Malielegaoi for his foresight.

"I am thankful for the PLG Secretariat, our partners in Samoa for all the hard work in implementing PLG initiatives, information sharing among PLG members, and the logistics and planning to make these annual meetings a reality," he said.
Prime Minister Tuilaepa, stated that the goal and mission of the Polynesian alliance are to work together to seek a future for our Polynesian people and countries.  Issues that the organization has tacked include airline services, telecommunications, labor mobility, education and environment.