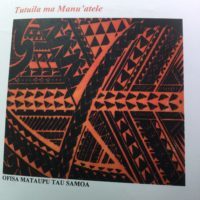 One of the last projects to be launched by former Governor Lolo Moliga was a book of salutations and distinguished titles of villages and districts.
The book is titled Tusi Faalupega. It was compiled by a special committee headed by Sala Dr. Mataese Samuelu under the Office of Samoan Affairs.
A $50,000 grant from the Dept. of Interior's Office of Insular Affairs funded the book which was launched in a ceremony at Suigaula, Utulei on December 31st, 2020.
Yesterday, the Senate passed a resolution requesting that Governor Lemanu instruct the Secretary of Samoan Affairs and the committee in charge of the Tusi Faalupega to recall all copies of the book including those which have already been released to the public.
The measure also calls for all writing intended for publication in the Tusi Faalupega to be presented to the Senate first for assessment, correction and approval.
In the first few days of the 37th legislature, several senators including Soliai Tuipine and Tuiagamoa Tavai expressed displeasure with the book.
In their opinions, the book contains errors in the salutations of their villages and districts.
They also noted that a final draft of the book was to be circulated to ranking chiefs for review before it went to print. However, that did not happen.
The Senate Samoan Affairs Committee held a hearing Tuesday with the Secretary of Samoan affairs and the book committee.
Testimony revealed that copies of the book have been released to the American Samoa Community College and high schools as instructional material.
At the hearing, the committee that compiled the book promised to recall all released copies of the book and stop further distribution until the Senate has reviewed and approved the material.
In addition to a recall of the book, the resolution also requests that Governor Lemanu support funding for publication of the book as it was a project initiated during his last term as Lt. Governor.