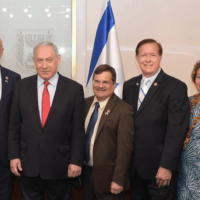 Congresswoman Uifaatali Amata hailed the NOAA announcement of a record coral reef in American Samoa's waters, and sends her thanks and congratulations to the entire federal scientific team that did the impressive work.
She announced she is an original cosponsor, as one of five Members of Congress in introducing a bipartisan bill earlier this month, H.R. 160, to reauthorize the Coral Reef Conservation Act of 2000 and to establish the United States Coral Reef Task Force.
"This discovery is wonderful work by everyone involved, and congratulations to those studying the coral reefs in American Samoa," Amata said. "This important scientific work is so interesting, and I continue to directly support the resources in Congress for these efforts, and to reauthorize the program. Congratulations to NOAA, the National Marine Sanctuary of American Samoa, and the National Park of American Samoa."
ht) and Rep. Jenniffer Gonzalez-Colon (left) as pictured in this past congressional delegation
The Coral Reef Conservation Reauthorization bill is led by Rep. Darren Soto (D-FL), and in addition to Congresswoman Amata, other original cosponsors are Rep. Ed Case (D-HI), Rep. Brian Mast (R-FL), and Rep. Jenniffer Gonzalez-Colon (R-PR), and cosponsor Rep. Stacey Plaskett (D-USVI).
Amata has also supported past efforts, such as cosponsored a bipartisan effort in the 115th Congress for reauthorization and expansion of the Coral Reef Conservation Program.
The Natural Resources Committee has oversight responsibilities regarding the National Atmospheric and Oceanic Administration (NOAA) and its projects.