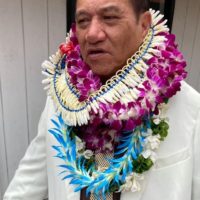 Along with the confirmation of cabinet members the proposed Fiscal Year 2021 budget for the American Samoa Government are priority legislation on the Fono's agenda.
The Chairman of the House Budget and Appropriations Committee, Rep Vailiuama Steve Leasiolagi, announced yesterday that joint hearings of the House and Senate on the FY2021 budget will begin next Tuesday.
The proposed budget is the same one that former Governor Lolo Moliga sent the 36th Legislature. It totals $465. 9 million.
According to Vailiuama the Fono leaders have consulted and have agreed to hold joint hearings on the budget beginning Tuesday morning.
ASG witnesses being called on the first day are Treasurer Malemo Tausaga and Budget Director Catherine Saelua.
The Senate has already passed the budget bill in second reading without any amendments.
The Senate Budget and Appropriations Committee, chaired by Sen Utu Sila Poasa discussed the FY2021 budget bill on Wednesday.
The consensus was to approve the bill as presented without any changes.
Senator Soliai Tuipine proposed that they add $500,000 for lawmakers' offices as well as $10,000 each for their expense allowances.
However there was no discussion or action on his suggestion.
The last Legislature had passed the FY2021 budget bill that then Governor Lolo submitted. However lawmakers reduced the budget by more than $6 million, by cutting the budgets of executive branch departments and agencies. But lawmakers increased by half a million dollars the appropriations of the Governor's Special Programs specifically for their offices.
KHJ News points out that the funding for lawmakers offices is not listed in the budget that Governor Lemanu sent the Fono.
Governor Lolo refused to sign the FY2021 budget bill that the last Fono approved and instead issued an executive order to keep ASG funded at FY2020 budget levels.
The current Fono at the request of Governor Lemanu passed a continuing resolution to keep ASG funded as Lolo's executive order had expired by the time the new leaders took office. The continuing resolution expires March 6.