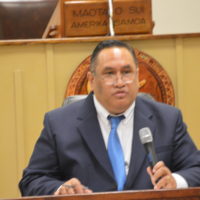 Over in the Senate, Fainuulelei Falefatu Ala'ilima Utu was unanimously approved as Attorney General, 18-0. That was the same vote with which the House of Representatived confirmed Ala'ilima Utu yesterday.
He is now cleared to serve as the government's top attorney.
Ala'ilima Utu is a former deputy attorney general and also served as legal counsel for the Development Bank of American Samoa. He was most recently Executive Director of American Samoa Legal Aid.
Also today senators approved by a unanimous 18-0 vote, Motusa Tuileama Nua as Director of Health.

Motusa awaits a confirmation hearing and vote in the House of Representatives. If confirmed this will be his 3rd four year term as Director of Health for the American Samoa Government.