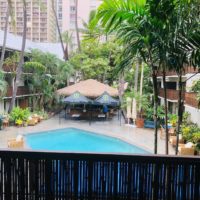 Yesterday, passengers approved for the first repatriation flight from Hawaii checked into the White Sands Hotel to begin a 10-day quarantine.
The City of Honolulu is partnering with the State of Hawaii to help facilitate safe travel and quarantine arrangements for the travelers.
Among the 160 passengers approved for the first flight on Jan 29 is Faafeu Lagafuaina who flew in from Washington State for the repatriation flight.
"I'm excited to go back home. I've got three young kids at home," she told Hawaii News Now. She has been separated from her children for a year.
American Samoa has remained COVID-free because it closed its borders.
"It's a very touchy subject because a lot of people are really against this flight," said Lagafuaina.
Walter Laussen, who has been living on Oahu, is also among those returning.
"If I wasn't in this flight I would have been homeless," he said, adding he plans to surprise his mother when he arrives home. "She doesn't know that I'm coming back home. I just want to give her a big surprise that I came back."
After check-in at the Waikiki Shell parking lot, the group went to the White Sands Hotel in Waikiki where they'll undergo testing and quarantine. After arrival in American Samoa, they'll quarantine again.
A medical team is at the Waikiki hotel and says the territory's only hospital would be overwhelmed if any virus got in.
"Put the risk at this end because we could not sustain it at the other end. We started with a 10-day quarantine with two COVID tests hoping to reduce the potential risk," said Dr. Cecelia Alailima, quarantine administrator for American Samoa Government's Department of Health.
Health officials say 1,200 American Samoans in the United States have signed up to repatriate and those on the first flight have advice for others still waiting.
"Don't give up. There's always a way," said Laussen.