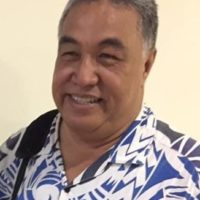 The position of Territorial Auditor for the American Samoa Government has been vacant since 2014.
Now Governor lemanu Peleti Mauga wants to fill the position and has submitted to the Fono for confirmation the name of Sualauvi Su'a for the job.
The governor said in a letter of nomination to the Fono leaders, "Tofa Su'a has faithfully served our territory for many years. He has years of experience in management and in the public and private sector..including as senior accountant…"
According to Su'a's resume, he was most recently Assistant Manager of Administration for the 2020 American Samoa Census Office, he was senior accountant for McDonald's Family Restaurant, was senior accountant for the American Samoa Power Authority, General Manager of Haleck Beverages, Chief Accountant at Haleck Enterprises and a Financial Controller and Marketing Manager at Transpac Corporation.
He was also president and owner of a meat processing business, Taumafai Samoa Distributors and Atoa Meats Company.
Local statute requires that the Territorial Auditor must be a person experienced and competent in governmental auditing, financial management, or government operations and budgeting.
He or she shall be a certified public accountant or a certified internal auditor holding a current certificate from any state of the United States. (Su'a's resume does not show he is either)
The Territorial Auditor is appointed by the governor and confirmed by the Legislature. Their term of office is 4 years from the date of appointment by the governor.
No person shall serve as Territorial Auditor for more than 8 years, whether consecutive or not.
Sen. Togiola Tulafono, chairman of the Senate Government Operations Committee during today's Senate session requested the Senate Legal Counsel to look into the law governing the Territorial Auditor position and review if the nominee's credentials are in compliance.
The last Territorial Auditor, Robert Dantini, left in 2014 before his contract was up. His predecessor, George Webster was fired before his term was up.