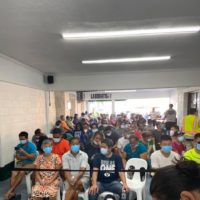 A new shipment of Covid-19 vaccines arrived Saturday ..7800 doses of the Pfizer vaccine.
It's the intention of health authorities to complete 10,000 vaccinations before the first repatriation flight from Honolulu on January 29.
Dr Francine Amoa, chair of the Covid Vaccine Working Group said they hope to start vaccinating the next tier group by Friday. That is the 16 year olds and up.
But she's hoping that before they start on that age group more 65 year olds and up will come in for their first shots.
The Tafuna Community Health Center will continue vaccination of the elderly citizens tomorrow .
DOH and LBJ Hospital carried out vaccinations on the Martin Luther King holiday on Monday and the total number of residents with one dose of the vaccine at the end of Monday was 4,225 or 12% of the eligible population,
Today DOH staff carried out vaccination of residents and staff of Hope House on site.
There's been discussion about taking the vaccination campaign out into the community similar to the measles immunization outreach. However Chief Epidemiologist Dr. Aifili John Tufasays distribution is a challenge because of the storage requirements for Pfizer.
The Pfizer vaccine has to be stored in -70 degrees Celsius.
"It means we cannot bring it out to the community," said Dr. Tufa.
"It needs to be near the cold storage. Also, because the vaccines are new, we still want to make sure that we are close to the clinic or hospital in case there is an allergic reaction."
Another challenge for the health authorities is that the territory gets a certain allotment so it needs to make sure there's enough to last for both doses per month,
"We only get a certain number of doses per month.," said Dr Tufa. "These are both first and second doses. We cant push out too much beyond our allotment in case a shipment is compromised or does not arrive."