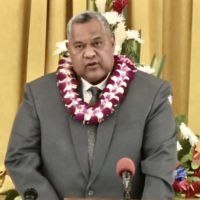 The Payroll Division of the American Samoa Government is being moved back to Treasury, its original home.
In a General Memorandum issued January 8th, Governor Lemanu Peleti Mauga ordered the return of the Payroll Division that is currently a part of the Department of Human Resources to the Department of Treasury.
The division which processes the paychecks of the American Samoa Government workforce was moved to Human Resources in 2014, the second year of the Lolo & Lemanu administration's first term in office.
Prior to that, payroll functions were always performed by Treasury.
In the memo, Governor Lemanu cautioned that when transferring the Payroll Division back to Treasury that directors should work together to make sure that ASG employees continue to be paid without any disruption.
He said they are responsible for paying all wages as the law requires.
In the same memo, Lemanu rescinded guidance contained in a memorandum dated September 19, 2014 which authorized the transfer from Treasury to Human Resources.