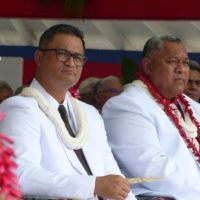 In the wake of concerns voiced by some senators regarding the January 29th repatriation flight, KHJ News sought reaction from Governor Lemanu Peleti Mauga.
The Governor's Office sent the following response:
"Governor Lemanu remains optimistic that repatriation efforts will bring our stranded people home while minimizing risk. 
"The Task Force hearing yesterday morning was a prime opportunity for the Senate to ask any questions and voice their concerns. I hold the Senate's wisdom and faculities in the highest regard as elder statesmen and women of our territory. We should support any and all efforts to provide information and details of the repatriation process."
Governor Lemanu continues, "I believe that we have assembled a great group of public health doctors, medical doctors, and administrators both locally and in Hawaii, that have put together a comprehensive response plan in bringing home our people.
"I am confident that the Task Force (TF) has collected and presented all the data, logistics, and analysis needed to build the best repatriation plan possible.
"As a Territory, we must do our own due diligence in protecting ourselves.  We should educate ourselves on how COVID19 is spread, and different ways to stay safe.  The Lt. Governor and I encourage all our citizens to get vaccinated, wear masks, and practice social distancing."