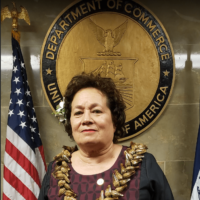 Congresswoman Uifa'atali Amata has nominated 22 students, 12 females and 10 males, for consideration by the service academies for 2021.
"This year, we have a strong class of nominations to send to the academies," said the congresswoman.
"Each of these deserving students has developed a good academic record and obviously worked hard. Congratulations upon reaching this point, already a true accomplishment.
"Thank you especially to the families of these students, along with pastors, teachers and other influencers. The outcome is highly competitive, but each of these students is on pace to make American Samoa proud."
The service academies are fully funded federal colleges whose mission is to train future officers and leaders that will serve in their respective armed service.
The admissions process is extremely competitive, as the academies seek candidates with high potential to become leaders as commissioned officers in the United States Armed Forces.
These are the nominees, their high schools and the service academies they're nominated to: