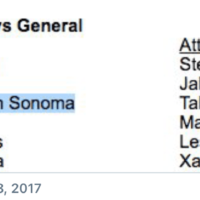 This looks like another case of autocorrect run amok.
USA Today said in a list of attorneys general who attended a meeting with President Trump Tuesday, the White House accidentally identified Talauega Ale as the attorney general of "American Sonoma" rather than American Samoa, the U.S. territory located in the South Pacific with a population of about 55,000 people.
(EDITOR'S NOTE:Talauega hasn't been AG of American Samoa since February of last year when he resigned to run in the gubernatorial race as Lt Governor. He was replaced by Mitzie Jessop Taase, which means the White House hasn't updated its AGs list. USA Today did not even mention Talauega is now LT Governor of American Samoa)
The USA Today article said: "American Sonoma is not an actual thing or place, but Williams Sonoma is a high-end culinary retail store and Sonoma County is well-known for being home to some of California's greatest vineyards.
"Rep. Jared Huffman, D-Calif., who represents part of Sonoma County, made light of the gaffe on Twitter. American Samoa differs from Sonoma County because Samoa's representative in the House is a non-voting member and Sonoma County does not have an attorney general, Huffman tweeted.
"The error has no apparent connection to the Trump Winery, which is located in Virginia, far from the hills of Sonoma.
"The typo did have some on Twitter going Sideways and they uncorked some vintage social media satire in reaction to the gaffe.
"Others said it was nothing to wine about."