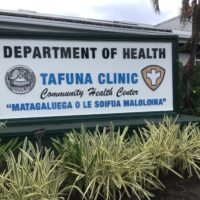 The Dept. of Health continues COVID-19 vaccinations for persons 65 years and older today at the Tafuna Community Health Center. The clinic is open 8:00 a.m. to 4:00 p.m. for vaccinations.
The Primary Care Clinic and Pre-Natal Clinic will not open today. The Well Baby Clinic and Dental Clinic will open as usual.
Vaccinations for the 65 and older age group will happen again on Friday from 8:00 a.m. to 12 noon.
Details on COVID-19 and other vaccination are available on the Dept. of Health's Facebook page.