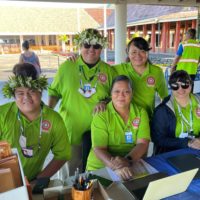 The State Medicaid Office has issued a final reminder for passengers set to leave on today's medical charter flight to Honolulu.
The Medicaid State Agency confirmed this morning that 275 people are set to travel on the flight.
The agency is reminding everyone to bring and wear masks upon boarding HAL#922.
Failure to wear masks will delay the flight because Hawaiian Airlines cannot depart until all passengers are doing so.
Passengers are also reminded to check in with the Medicaid staff at the airport to pick up quarantine exemptions for the State of Hawaii and to double-check that they have correctly completed the Safe Travels registration.
Wheelchairs are at a premium for these medical charter flights. As such, those who do not need one should not request one. This will help ensure a smooth and timely departure of the flight.
Past charter flights were delayed by 2 hours due to having more than 50 passengers that needed to board using wheelchairs. There is only one lift and a limited amount of wheelchairs on hand.
Finally, passengers are encouraged to eat before coming to the airport or bring a lunch bag. There are limited options at the airport and you may be there for several hours until departure.
The flight is scheduled to arrive at 12:20 p.m. and it will depart for Honolulu at 3:50 p.m.