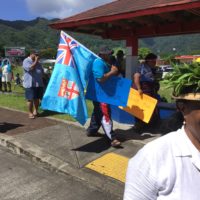 The Fijian Community of American Samoa held a fundraising drive this past weekend, raising $15,000 to benefit the victims of Cyclone Yasa.
The group intends to send the funds to Fiji this week, but is still asking the community for school supplies for displaced students, and clothing for all age groups.
Play Audio
Anyone who would still like to help out can contact Tubui at 272-8010.