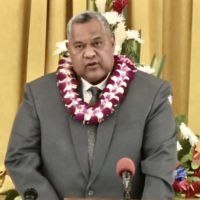 An acting director for the Territorial Energy Office and five liaisons between the Governor's Office and the Fono were appointed yesterday by Governor Lemanu Peleti Mauga.
Misipati Salanoa has been appointed as acting Director of the Territorial Energy Office effective immediately.
The governor said, "Salanoa's knowledge and leadership abilities are needed during this time of transition."
Salanoa was formerly with the Department of Commerce where he was Manager of the Senator Daniel Inouye Industrial Park. He was most recently director of field operations for the 2020 Census.
Governor Lemanu has appointed 3 liaison officers to the Senate and 2 liaisons to the House of Representatives.
His Senate liaisons are Moananu Vaiala, Pagofie Fiaigoa and Sialega Tuiga Jr. Moananu was a cultural advisor to Governor Lolo, Pagofie was Lolo's liaison to the House of Representatives and Sialega was Lolo's liaison to the Senate.
The Governor's liaisons to the House of Representatives are Fiu Johnny Saelua and Gafatasi Afalava. Fiu was Governor Lolo's Chief of Staff for 8 years. Gafatasi was faipule for Leasina District in the last Legislature.
Governor Lemanu said in a letter to the Fono leaders, "The liaison officers serve as my link to the Fono, keeping me informed of all chamber proceedings."