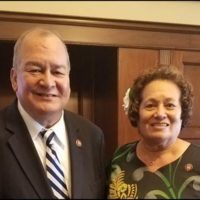 Congresswoman Uifa'atali Amata has announced she is an original sponsor of legislation introduced by Rep. Gregorio Kilili Camacho Sablan of CNMI that would allow unlimited federal funding for the Medicaid program in the U.S. territories, including American Samoa and the Marianas.
"Together, we made great progress on Medicaid support in the last Congress, increasing the standard federal share from 55 percent to 83 percent, and temporarily for 2020 even higher at over 89 percent, while putting in a much higher cap of $84 million," said Congresswoman Amata.
"This bill would remove that cap entirely.
"Although American Samoa currently has room under the cap, we cannot be certain of future needs. It's important that the territories stand together on these matters, so that we can ensure equitable provision for all our people."
Working together, the representatives from insular areas and the governments of the territories were successful in persuading Congress to make big increases for American Samoa, and others, in federal Medicaid spending during the last Congress.
The statutory cap on Medicaid for American Samoa was $12 million in fiscal 2019, but with bipartisan support, Amata worked to have it raised to $84 million this year.
Now, representatives will seek full parity with the states and seek total elimination of the caps like the other states have.
"I'm happy to be a part of this effort, and continue building on these Medicaid improvements from the prior Congress," continued Amata.
In addition to the substantial rise in federal Medicaid funding achieved in the 116th Congress, that legislation also successfully lowered the local match the Territory's government must pay.
American Samoa's local match went from 45 percent to less than 11 percent during this year's COVID-19 economic circumstances, with a long term rate in statute of 17 percent — the best possible non-emergency rate under the law in any U.S. state.