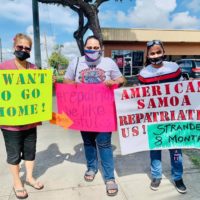 Some senators have are concerned about plans to bring home stranded residents from Hawaii and the mainland beginning with the first repatriation flight, January 29.
Fofo Senator Faiivae Alex Godinet was the first to express doubt over the flight during today's Senate session.
He pointed to the announcement by Governor Lemanu Peleti Mauga at the opening of the Fono yesterday regarding the first planned repatriation flight.
Faiivae suggested that the Senate call in the Covid-19 Task Force to explain their plans.
"Praise God we have remained safe in the last year from this disease," said Faiivae.
He added, "our people are still able to communicate but once this deadly disease arrives on our shores, the lives of our people will be imperiled."
Faiivae called for a hearing with the Covid-19 Task Force as a matter of urgency.
Senate President Tuaolo Manaia Fruean asked Senator Satele Galu Satele, who's appointed chairman of the Senate Health Committee to schedule a hearing either tomorrow or Thursday.
In the last Fono, Satele repeatedly spoke against allowing the return of stranded residents stuck off island.
He said this was a very serious issue and was happy that Faiivae has raised it.
He said every day he watches TV news about this frightening and deadly disease, and 2,000 people are dying from coronavirus daily in the Us.
Satele said if the disease reached American Samoa, our population of 70,000 would be dead in no time, "Ther'll be only animals roaming," he predicted, adding, "we all love our people who are stranded but we have to make sure our island is protected."
"Prevention is better than cure," continued Satele.
He said President Trump regretted that the US did not move fast enough to protect itself from this disease.
Sen Satele scheduled a hearing with the Covid-19 Task Force for 9am Thursday,
Senate President Tuaolo said he's learned there's disagreement among doctors over the repatriation plan and some are not aware of the upcoming srepatriation flight.