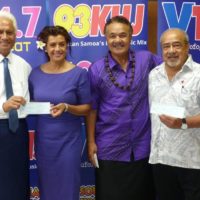 Blessings flowed freely Monday morning when entertainers Atoa and Mokihana Ripley visited the 93KHJ studios.
In the wake of their very successful Magical Christmas Concert at the Lee Auditorium in December, they came to present money raised to two local charitable causes.
Mokihana presented a check for $1000 to the American Samoa Red Cross. Respresenting Red Cross was Vaito'a Hand Langkilde, Chairman of the Board of Directirs.
A check for $2000 was presented to Hope House which was represented by Rep. Larry Sanitoa, Chairman of the Board.
Atoa heaped praise on the business community and government for supporting the live musical show.
He thanked Paradise Restaurant for providing the music, former Dept. of Commerce Director Keniseli Lafaiele and, of course, the musicians who worked tirelessly to provide an evening of Christmas entertainment unmatched in recent years.