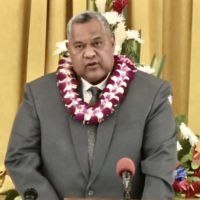 The Lemanu Talauega Administration has pledged to build on the positive trends and outcomes of the previous administration to achieve financial security for the American Samoa Government and territory.
The print version of Governor Lemanu Peleti Mauga's inaugural State of the Territory, delivered at the Fono opening  yesterday, states that corrective  actions were implemented from the bond covenants or "Honolulu Plan".
The plan contains specific requirements that ASG must meet in order to satisfy agreements for the revenue bonds that were floated by the American Samoa Economic Development Authority to fund major projects.
One of the key requirements is for ASG to maintain a balanced budget.
Governor Lemanu's SOT speech said the plan includes increasing revenue collections, reduction of budget ceilings by 10%, resolving audit findings and the commission of an ASG comptroller.
Further there's a need for real time financial quarterly reconciliations and adjusting expenses according to revenue collections in order to maintain positive fund balances.
The governor said that the US Treasury Office of the Inspector General is conducting a full audit of American Samoa's Coronavirus Relief Fund. This is the $35.1 million fund ASG received under the CARES Act for coronavirus response.
An August report by then Treasurer Ueligitone Tonumaipe'a of the fund showed that the money was used to pay meals for quarantine centers, Talofa Airways charter flights for Manu'a, local hotels used to quarantine arriving travelers, and road projects.
Governor Lemanu said in the State of the Territory speech, "Our administration will continue these communications as necessary pending the outcome of the audit."
He pointed out he has reached out to the Dept of Interior, Office of Insular Affairs to help with an external audit to conduct a review of the deployment of the Coronavirus Relief Fund and projects.
lemanu pledged to "build on the positive trend and outcomes from our predecessors," while finding solutions and the best way forward."