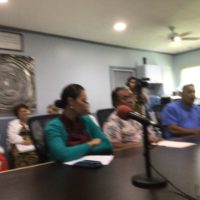 The trials on the Pfizer vaccine documented side effects from some of the more than 40,000 people whom the vaccine was tested on.
The side effects which were explained by the chair and members of the DOH and LBJ Vaccination Working Group at a press conference yesterday, include:
injection site pain
fatigue
headache
muscle pain
chills
joint pain
fever
injection site swelling
redness, nausea, malaise and swollen lymph nodes.
There are two doses required for the Pfizer vaccine, which should be administered 3-4 weeks apart.
The Department of Health and LBJ Hospital will set up four Points of Distribution (PODS) for the Covid-19 vaccination.
The first group to get the shots are frontline health workers at the LBJ Hospital, DOH and private health care facilities like Hope House, then first responders.
Training and public awareness for health workers is taking place Wednesday and Thursday in preparation for their inoculation within 72 hours after the first shipment arrives.
LBJ CEO Faumuina John Faumuina says they are finalizing their policy for the vaccination of employees but indicated if workers refuse to get the shot, they may have to go home.
Health Director Motusa Tuileama Nua said DOH will also have its own vaccination policy for their employees.
He said while they recognize vaccination is an individual's right, their main duty is to protect the lives of our people.
Epidemiologist Dr Aifili John Tufa put it bluntly telling KHJ News after the press conference that a "side effect of COVID is death."
The health officials also explained that a COVID-19 vaccination would become a standard requirement for travel to many states and countries.