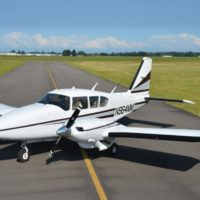 You may have heard a small plane buzzing overhead around the airport vicinity last night.
That was an Aztec twin engine plane which was being ferried from Australia to Hawaii.
It overnighted at Pago Pago International Airport and the pilot had to sleep inside the aircraft.
He was not allowed to step out of the plane.
KHJ News was informed by government officials that the local agent for the aircraft had received approval for the plane to land and for the pilot who was traveling by himself to spend the night at the Department of Health Quarantine facility.
However when Governor Lolo Moliga learned about this after the plane had left Australia he denied permission for it to land at Tafuna.
Chairman of the Coronavirus Task Force Iulogologo Joseph Pereira said this flight was approved some time ago.
The Department of Health had issued its approval after securing all needed information and commitment from the owners to comply with all requirements for overnight quarantine. There were no passengers on the flight other than the pilot.
"I am responsible for the confusion which prompted the decision to cancel the flight yesterday," said Iulogologo.
"I had not adequately briefed the Governor on this ferry flight. This decision was appealed as the flight had already been on route and there would not be sufficient fuel for the plane to make it back. The flight could not be diverted because the special fuel was here."
The CTF Chairman said in spite of the Governor's grave concern over the risk for accidental transmission of the virus, "I am thankful that the Governor allowed the plane to land to be fueled and the pilot to get some rest to safely continue the trip to Hawaii."
The Department of Health and the Department of Port Administration made sure that the Governor's concerns would be addressed.
The plane was eventually allowed to land around 9:30 pm on condition that the pilot does not leave the aircraft.
Airport Security and Dept. of Health personnel were stationed at the airport to ensure that the pilot did not leave the aircraft. The plane was scheduled to leave at 9 this morning.
Photo: Image of an Aztec plane.