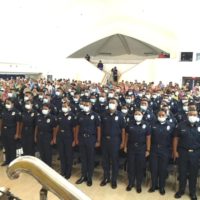 Seventy-two young men and women joined the ranks of police officers of the Department of Public Safety today…graduates of the 28th Police Academy.
Their parents, spouses, children, relatives and friends packed the Lee Auditorium for the hour long graduation ceremony.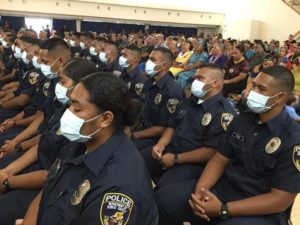 Chief Associate Judge Mamea Sala Jr. administered the oath…
Play Audio
DPS Chaplain, Rev Dr Faafetai Fuimaono prayed and  gave spiritiual advice to the graduates and Governor Lolo Moliga congratulated the new officers and imparted fatherly advice to guide them in their law enforcement duties.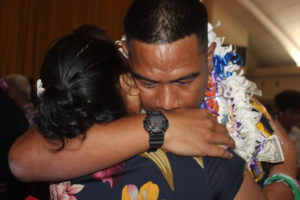 He echoed the words of Rev Dr. Fuimaono that they emulate the example of the Good Shepherd who will not sleep until a lost sheep is found.
The governor also urged that they be respectful in dealing with the publc and follow dictates of the culture when on duty.
Lolo praised Commissioner of Public Safety Le'i Sonny Thompson saying his persistence has resulted in new facilities for DPS eg the new DPS building,  a new fire station with an exercise room, and TCF buildings and wall. In addition salaries for the rank and file and those who have been in the force for many years have been increased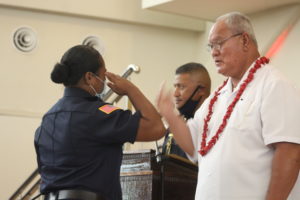 The class valedictoriam was Scotland Elisara and the salutatorian was Margaret Su'a.
Also during today's ceremony promotions for  lieutenants, captains and commanders were  announced.