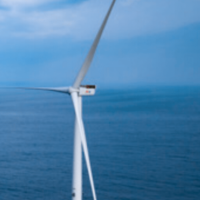 In September 2020, the Western Pacific Regional Fishery Management Council adopted an Offshore Energy Policy for the Western Pacific Region that will provide guidance when these matters arise.
At its June meeting, the Council directed staff to draft a policy that considers the following: potential area closures around offshore wind areas would limit access to fishing grounds; wind turbines can act as fish aggregating devices and affect the annual migration patterns of yellowfin tuna; schools of juvenile fish around turbines can attract protected species such as seabirds; and undersea cables from offshore wind farms will impact the bottom substrate and may compromise benthic habitats.
The Council recognizes the need for efficient renewable power generation for the Pacific Island region.
The policy's purpose is to inform potential energy developers Progression Hawaii Offshore Wind submitted a lease application in 2015 to build a wind farm off O'ahu, with the location still to be determined.
The company has partnered with Principle Power, Inc. to use their patented WindFloat floating platform.
There will be between 27 to 50 platforms, depending on the technology available, with a target completion date of 2030.