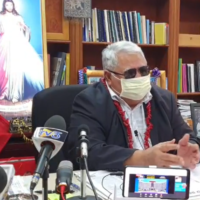 The Samoa Government has cancelled the repatriation flight from the United States due to arrive this Friday direct from Los Angeles.
Prime Minister, Tuilaepa Sailele Malielegaoi, made the announcement this afternoon saying, Cabinet made the decision after advice from the National Emergency Operations Committee.
"After 1pm today Cabinet decided to postpone the flight because of the rising incidents of infections in the US until a time in the future,'' he said.
According to the PM the planned flight was also to bring citizens who had traveled come from Europe to come to Samoa.
"This is one of the hardest decisions we have had to make and it was not easy,'' he said.
Tuilaepa told media they know some people have prepared for a long time to be on the flight, especially stranded sailors in Europe but it was important to look at the safety of all concerned.
"We are at the same time still on alert from the current situation of the sailor who was on an earlier flight,'' he said.
The PM welcomed the support of leaders of the opposition for stopping the flight saying it is good to see them ''change their tune'' on current emergency measures.
Tuilaepa said he met this morning with the National Council of Churches who offered their support for government measures to stop covid-19 infections.
The government had hoped to have passengers on the US flight stop over and be quarantined in New Zealand, but to date there has been no response from the New Zealand government.