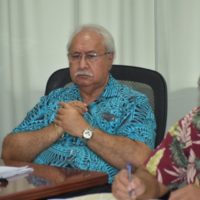 The meeting of the COVID-19 Vaccine Distribution Task Force held yesterday decided to recommend to the governor that American Samoa will opt for both the Pfizer and Moderna vaccines along with any other vaccine such as the recently announced vaccine by Astra Zeneca.
And in order for the vaccine to work and provide herd immunity, the Task Force proposes a mandate that everyone gets vaccinated similar to what was done with the MMR vaccine to combat the measles outbreak.
This is according to the Chairman of the Coronavirus Task Force and member of the COVID-19 Distribution Task Force Iulogologo Joseph Pereira.
He said the governor will convey the territory's wish for the three vaccines to Warp Speed, the group that coordinating at the federal level, development, testing and manufacturing of a vaccine for coronavirus.
The Task Force is currently putting together the Vaccine Distribution Plan to be presented to Governor Lolo for his approval.
Iulogologo explained that the plan will include priority ranking of those who will be vaccinated when supplies arrive.
The Pfizer vaccine for COVID-19 is expected to be released in the coming weeks and the Moderna vaccine should be ready for issue early next year.