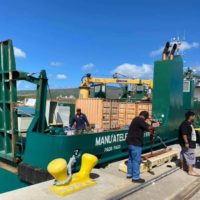 The MV Manu'atele will be leaving the Marisco Shipyard in Honolulu for her journey back to American Samoa in a few weeks.
The ferry was damaged when it was swept by high surf and strong winds in to the Ofu dock in January.
The boat sailed to Honolulu in June for repairs.
There was a delay in getting it on the slipway at the Marisco shipyard due to COVID-19 restrictions.
Repairs have been completed and the Manu'atele should be leaving Honolulu around December 10, according to Port Director Taimalelagi Dr Claire Poumele.
She says seven days before the boat leaves Honolulu Captain Lafoga Alovao and the 8 crew members will have their coronavirus tests.
They will be at sea for 14 days which will be the crew's quarantine period unless the Department of Health says otherwise.
The US Coast Guard is to carry out an inspection of the whole vessel before it sets sail for American Samoa.