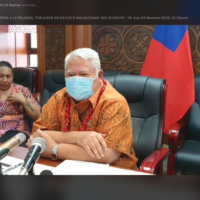 More tests are to be conducted in New Zealand determine if the Samoan sailor who has shown conflicting test results for coronavirus is indeed infected with the deadly virus.
Speaking to reporters in Apia this afternoon Samoa Prime Minister Tuilaepa Sailele Malielegaoi said tests conducted in New Zealand showed that a swab from his left nostril was negative and the one for his right nostril was positive for coronavirus.
The test results from NZ was received an hour before the 3:30 pm press conference.
According to the PM the Motootua national hospital lab showed this same result for the sailor, and another test carried out at the Scientific Research Organization of Samoa (SROS) yielded the same test result.
Because of the conflicting results, the swab was sent to the ESR lab in wellington NZ for confirmation and the result received this afternoon from the NZ lab was the same as the tests done in Samoa.
Tuilaepa said that a blood sample of the sailor will be sent to New Zealand Friday Samoa time and he expected the results to be known by Monday next week, Samoa time.
The Prime Minister also announced that the cabinet at a meeting this afternoon discussed the first direct flight from LA to Faleolo which is scheduled for November 28.
He said there's a concern among the cabinet about the flare up of coronavirus cases in the US. Tuilaepa hinted at the possibility that the flight may be postponed but said a decision will be made at another cabinet meeting tomorrow.
The PM said he wanted to make an announcement about the results from New Zealand at this point because of the spread of reports suggesting that the government has known the result of the tests done in NZ but is hiding the information. He said the media was partly responsible for the spread of these erroneous reports.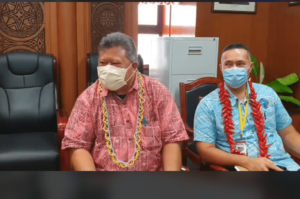 A reporter asked if the swabs could be sent to American Samoa instead of New Zealand to speed up the testing and results. Director General of Health Leausa Dr Take Naseri said American Samoa is not allowing any flights or vessels from Samoam plus the ESR lab in New Zealand has more sophisticated equipment.
The Prime Minister added that the reason for sending the swab to New Zealand is to get a confirmation but Samoa also has a sophisticated machine for testing.
The Ministry of Health is using the GeneXpert machine for the corornavirus tests, believed to be second best for testing.