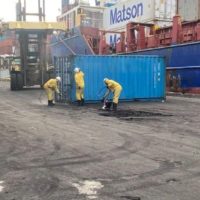 Containes off loaded from the Fesco Askold the vessel that had crew members who tested positive for coronavirus are not under any hold at the dock.
In fact some should be at their importers premises being unloaded.
Department of Health says the containers have been decontaminated and they are cleared in the normal process.
A Port Administration official told KHJ News that as soon as Customs clears the containers after the importers pay excise taxes, they will be allowed to leave the dock.
The Fesco Askold's inbound cargo included food, merchandise for the holidays, building materials, construction equipment and cannery supplies.
The vessel left port yesterday to sail back to the US west coast.
In related news the 11 local stevedores who worked on unloading and loading the Fesco Askold's containers will be released from the DOH quarantine facility in Tafuna on Monday.
That's the same day that all 14 DOH personnel and pilots from Port Administration will be allowed to go home.