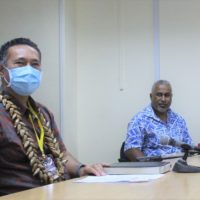 The Samoa Government has asked the New Zealand government to allow passengers off a ''high risk'' repatriation flight from the United States to quarantine in Auckland for two weeks before continuing on to Samoa.
Samoans are converging on Los Angeles from parts of Europe, North and South America and Hawaii to get home.
Chairman of the National Emergency Operations Committee, Agafili Shem Leo told the Samoa Observer, the flight will not be cancelled and if the request with New Zealand is not accepted the flight will come directly to Samoa.
"We have requested the New Zealand Government and they have acknowledged they have received the request, the process of discussing that we leave to Prime Minister Ardern and Prime Minister Tuilaepa," Agafili said.
He added if New Zealand agrees they may ask for the same courtesy for passengers travelling to Apia on flights planned for Friday, December 4 and Monday, December 7.
Meanwhile the State of Emergency has been extended with no changes to the orders.
Prime Minister Tuilaepa Dr. Sailele Malielegaoi urged the public to be patient, and trust their health sector and emergency operations sector who are well prepared for yesterday's scare.
A swab of the Samoan sailor and a blod sample is to be sent to NZ todat for urther testing. 
The sailor who had worked in Intaly and returnd home last firday, had a positive coronavirus test the day before yesterday but yieleded a negative result yesterday,
Tuilaepa said  school closures are not necessary and that  precautionary measures are important, like washing hands, using sanitisers, observing social distancing and wearing face masks.