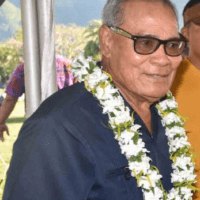 Governor Lolo Moliga has suspended all flights to and from Samoa as well as the sailings of the Samoa Government vessel Lady Naomi.
This is in response to the announcement from Samoa today about a suspected coronavirus case.
The governor was informed by staff of the case while he was holding a cabinet meeting at the Lee Auditorium.
Lolo left the meeting with key members of the Coronavirus Task Force, to meet at the Governor's Office.
Those who attended the meeting were CTF Chairman Iulogologo Joseph Pereira, CEO of LBJ Hospital Faumuina John Faumuina, Director of Health Motusa Tuileama Nua, Attorney General Mitzie Jessie Taase and Port Director Taimalelagi Dr. Claire Poumele.
Around 12:30 pm the Governor's Office issued a press release announcing the suspension of flights to and from Samoa and the Lady Naomi sailings.
"Governor Lolo M. Moliga, while sympathetic over this regrettable news, is now taking decisive actions to ensure that we continue to keep American Samoa coronavirus free with the issuance of the order immediately suspending all flights to and from Samoa along with the weekly surface trip by the Lady Naomi.
"This order will remain in effect until further notice.
(See separate article for full Press Release)
The Lady Naomi was due to arrive tomorrow but with today's order, tomorrow's sailing has been cancelled.
Responding to KHJ News questions CTF Chairman Iulogologo Joseph Pereira said cargo and fishing vessels are still permitted to enter our harbor but the Department of Health and the Department of Port/Airport Administration will be aggressively enforcing existing protocols.
Port Administration says there are 7 container ships and fuel tankers expected before the end of the month and most go to Apia first before coming here.
Iulogologo said the governor's preference is for cargo vessels to call into Pago Pago first if the voyage is from the West Coast.
"If this is possible for the Asia, New Zealand and Australia originated trips we would welcome that."