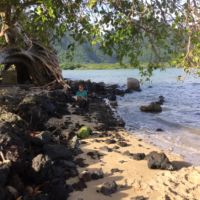 Congresswoman Aumua Amata welcomes a 2020 National Coastal Resilience Fund (NCRF) grant to protect the shoreline at Lions Park.
The grant of $337,037 is for project final design and permitting in the effort to create a living shoreline along Lions Park to enhance the critical estuarine habitat in the adjacent Pala Lagoon.
The grant from the National Fish and Wildlife Foundation and the National Oceanic and Atmospheric Administration (NOAA) will support plans to demonstrate alternative erosion protection instead of traditional seawalls.
The project will create a locally suitable design for the living shoreline to protect critical infrastructure, improve water quality by increased filtration, and enhance biodiversity.
Lions Park shore is one of 46 projects nationwide, part of a $37 million national investment, and Tutuila was selected from a competitive list of 300 eligible proposals.
The grant itself is to the University of Hawaii at Manoa for this portion of the project, with the resulting work in Tutuila.
"I appreciate this federal support for the effort to responsibly protect the Lions Park shoreline," Aumua Amata said. "Thank you to NOAA and the National Fish and Wildlife Foundation, along with anyone at ASG working with this project."
The NCRF is supported with additional public and private funding from Shell Oil, TransRe, the Environmental Protection Agency (EPA), AT&T, and the U.S. Department of Defense (DoD).