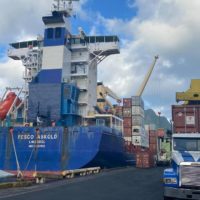 The unloading and loading of cargo for the container ship Fesco Askold will take longer than usual because work normally done by local stevedores will be handled by the vessel's crew.
When KHJ news spoke with Director of Health Motusa Tuileama Nua this morning he said it's likely the vessel will be port for a week.
Three of the ship's 17 crew members tested positive for coronavirus when it first arrived on Sunday afternoon. The next day, the Fesco Askold was sent out to sea while local authorities assessed the situation.
The vessel returned to port yesterday and unloading of its cargo got underway around 4 yesterday,
Motusa assured the public that all precautions have been taken to prevent any spread of the virus from the infected crew members. The three are isolated in their cabins while the vessel is in port and their temperatures are taken more than once daily and readings are relayed from the ship to DOH.
Motusa revealed that there were concerns that the ship may leave without discharging its cargo and picking up tuna exports from StarKist Samoa for the US.
He said if this happened, it would have resulted in economic strife for the territory and also cut off food supplies as we head into the holidays.
He said such a situation may also influence other vessels that deliver goods to the territory.
The Health Director made it clear that the main consideration was to protect the health and lives of everyone in the territory. He was confident the plan that was agreed to for handling cargo from the vessel serves that purpose.
No one goes on board the vessel. Equipment and crew of the Fesco Askold are off loading containers from the ship and placing them in an area of the dock where they are decontaminated by Island Safety and Sanitation company.
While the ship is in port its ladder or gang-plank is not lowered. Port Administration also has security on duty.
The 11 employees of DOH and Port Administration that had director or indirect contact with the infected crew members remain at the quarantine center in Tafuna and all are reported to be well and showing no symptoms of COVID-19.