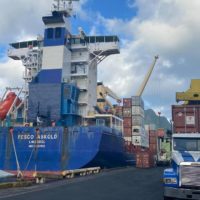 The Fesco Askold returned to port around 12:30 this afternoon and unloading of its cargo started around 4pm.
The vessel first arrived on Sunday but was sent out the following day and has been waiting outside the harbor until today. This after three crew members tested positive for coronavirus.
Logs of the crew's temperatures were examined by the Department of Health and it was decided that no further tests for coronavirus were needed.
No one is boarding the vessel while its docked and no one from the Fesco Askold is allowed off the vessel.
Industry sources said that the vessel has cranes and heavy equipment to be used to offload the containers on board and also load up containers for the trip to the US West Coast.
According to the governor's Executive Assistant Iulogologo Joseph Pereira, StarKist Samoa has 200 containers for the voyage to the US.
The incoming cargo includes cannery supplies, building material, construction equipment and food.
A fully suited tean from local company Island Safety and Sanitation was waiting at the dock since 3 pm to begin decontaminating containers as they are off loaded from the ship .
KHJ News understands that the unloading will last three hours this evening, and then begin again at 7 am until 7pm tomorrow.
Department of Health Epidemiologist Dr Aifili John Tufa said that the three crew members who tested positive for coronavirus have been isolated on the vessel and will remain in their cabins while the vessel is at dockside. He said that they have not shown any symptoms of COVID-19.
Meanwhile the 11 people from DOH and Port Administration who were taken into quarantine for direct and indirect exposure with the infected crew members are to be swabbed tomorrow.
They are also reported to be in good health.