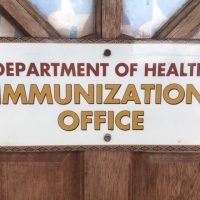 While coronavirus seems to be getting all the attention of health authorities, in reality they are just as focused on protecting the public from prevalent diseases.
Saturday, the Department of Health is conducting a vaccination outreach.
From 8:00am-12 noon, DOH teams will be at three sites to give immunization shots for children and also vaccinations for adults to protect them from various diseases.
The sites are Pritchard's Bakery in Leone, Laufou and the Fagatogo Market.
Yolanda Masunu of the DOH Immunization Program encourages families to make use of the free shots available at the three sites tomorrow.
Play Audio