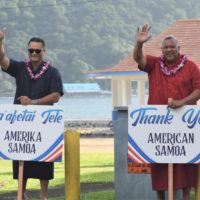 Governor-elect Lemanu Peleti Mauga urged their campaign committee yesterday to put the elections behind them, that now was the time for mending and healing.
Addressing the Lemanu and Talauega Campaign Committee for the first time after winning the gubernatorial election on Tuesday, Lemanu said families have been divided because of the campaign and now that the elections are over, it was a time to begin the healing and mending process among families.
He said "remember when we started we said focus on your families. If you have a dollar and plan to donate it to the campaign, we said your family comes first. The campaign will forge on."
Lemanu echoed statements by Paramount Chief Mauga Tasi Asuega that part of restoring unity is to remove the campaign boards and signs by the roadside. For stickers and wraps, he advised "if it makes your family happy, it's up to you but if it doesn't appeal to your family or the public its better to remove them." Lemanu urged their supporters to keep the peace and restore unity in families because he said in the end, the individual goes back to his family.
The governor-elect gave a glimpse of a schedule of events, post election.
He said first is the week of thanksgiving, followed by a week of healing and then a week of resting, stressing that the most important of these was the time for healing.
Lemanu informed the committee that he and LT Governor-elect Talauega and Campaign Committee Chairman Malemo planned to meet with Governor Lolo Moliga Monday or Tuesday .
A major task ahead is the transition from the current to the new administration.
Lemanu told committee members whoever wants to volunteer for the transition committees should choose which departments they want to be assigned to for this purpose.
He said preparations for the transition will occur simultaneously with reparations for the inauguration, keeping in mind that November and December have several holidays.
So there's just one month and a few weeks to plan before the January 3rd inauguration.
Wrapping up his speech, Lemanu said he and Lt Governor-elect Talauega and their wives and children thank all of the leaders and members of the committee for their hard work and count on their support as they take the reigns of government.
"We started this together and we will carry our government forward," he said.
Jokingly he said, "Please give us a week to familiarize ourselves with our jobs before you come and visit us. Don't come the day after inauguration and say you want to be a director."