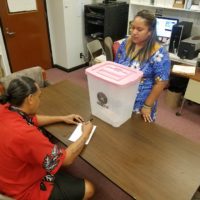 At least six candidates whose names are on the ballot for next Tuesday's elections wont be here when voters go to the polls. They are among the 500 residents who are stranded in Hawaii and the mainland after flights were grounded due to the COVID-19 pandemic.
They include two incumbent members of the House of Representatives Tupua Shaun Vaa of Vaifanua, and Logoituau Mark Atafua of Ituau District , and three former House representatives seeking to re enter the Fono: Fialupe Fiaui Lutu and Faalae Lauatuaa Tunupopo who are running in District No 5, Sua #1 and Vui Florence Saulo, a candidate for Tuala-uta District.
A congressional candidate Meleagi Suitonu Chapman is also in the group of stranded residents.
Vui Florence Saulo said she's had to use Facebook to get video clips and messages out to voters and also purchased radio ads.
She said while it's not the same as meeting voters one on one, it's the best she can do.
She said relatives and supporters are also campaigning here at home for her. The other candidates stranded off island have used the same avenue to keep their names in voters meds even though they're out of sight.
Except for Faalae, all of them were able to send clips to KVZK TV to be included in the candidates 'speeches for the House and congressional candidates.
Vui who was a three term member of the House , said all of them have been praying that there would be a repatriation flight before next Tuesday.
However it's not happening and they can only pray and hope that voters will remember them as they step into the polling places.
There are 51 candidates vying for 20 of the 21 seats in the House of Representatives. Swains has already selected their representative, Su'a Alexander Jennings, who will be sworn in for an 8th term, January 3.
Three women are vying in the congressional race: Aumua Amata, Meleagi Suitonu Chapman and Oreta Tufaga Mapu-Crichton.
Four teams want to be the next governor and lt governor of American Samoa. They are Gaoteote Palie Tofau/Faiivae Alex Iuli, I'aulualo Faafetai Talia /Tapaau Daniel Mageo Aga, Lemanu Peleti Palepoi Sialega Mauga/Talauega Eleasalo Ale and Nuanuaolefeagaiga Saouluaga Nua/Tapumania Galu Satele Jr.
The total number of registered voters is 16,343.
The Election office urges all to exercise their right to vote next Tuesday.