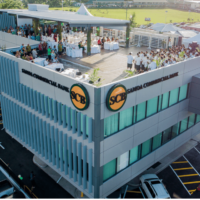 Seventeen years after Prime Minister Tuilaepa Sailele Malielegaoi launched the Samoa Commercial Bank, he opened the bank's newly built $14.3million headquarters in the heart of Apia on Thursday evening.
Samoa Observer reports that Managing Director, Lemalu Ray Ah Liki, told guests Tuilaepa had challenged the new bank to operate prudently and to contribute to the country's economy.
And as Tuilaepa pointed out in his opening address, the bank started with a $4.5million tālā capital and has now ''ballooned to $366 million as of August 2020''.
He added SCB has grown out to be a strong and solid bank.
The new building was blessed by Father Eteuati Lapa with the patron of the bank, family matriarch Agamalu Westerlund, cutting the ribbon to open the new premises.
Tuilaepa also had a new challenge for the Board and Management of SCB, the second privately owned bank in the country.
"I challenge the management to consider investing [in] overseas countries and to expand the S.C.B. brand."
Tuilaepa said the building was designed by Kramer Ausenco and constructed by the Apex Company, under the leadership and management of Suluimalo Amataga Penaia, with Asiata Van Wright as the Project Manager.
The only part of the building yet to be completed is the installation and commissioning of its elevators.
Lemalu thanked the building contractors as well as subcontractors, saying it was a job well done.
Lemalu also acknowledged the vision and advice of the company's first patron, their father Herman 'Magi' Westerlund.
Photo: Samoa Observer